Hello Cruel World
Thursday, December 30, 2004
Tsunami Animation from NOAA
> From: Toby Fiander (bigpond)
> Date: 29/12/2004 23:51:27
> To: SCIENCE-MATTERS (a) YOUR ABC NET AU
> Subject: Re: tsunami graphic
>
> NOAA has quite a nice graphic of the tsunami, including a semi-realistic
> attempt at showing the reflection, diffraction between islands and so on.
> If you have a dial-up connection, it is going to take a bit of downloading,
> but it is probably worth it:
[Pacific Marine Environmental Laboratory at the National Ocean and Atmospheric Administration]
pmel.noaa.gov/tsunami/Mov/TITOV-INDO2004.mov
Indian Ocean Tsunami - weblife contribution
Web users pitch in to global relief effort
www.smh.com.au/news/Technology/Web-users-pitch-in-to-global-relief-effort/ 2004/12/29/1103996613979.html
by Jesse Hogan
The Age Online
December 30, 2004
As distressed Australian relatives trawl the hospitals of tsunami-affected countries, the internet is proving an unlikely tool in their quest to find friends and relatives.

With telephone hotlines often engaged and the language barrier making information-gathering even harder, many of the most valuable volunteers helping reunite people have not even had to leave home to do so.

A dedicated band of internet bloggers and website creators are providing people around the world with phone numbers for hospitals and embassies in tsunami-affected countries, and a database of missing people ...

Locally, some news websites have urged overseas readers to submit stories and pictures of the tsunami, with ABC Online providing a collection of eyewitness accounts. The Age Online has done likewise, and has created a bulletin board for people trying to contact relatives overseas ...
Disaster blogspots
www.smh.com.au/news/Technology/Disaster-blogspots/2004/12/29/1103996614109.html
Compiled by Jesse Hogan
December 30, 2004
Websites providing information on victims and survivors of the Asian earthquake and tsunami.
tsunamihelp.blogspot.com
A detailed blog that offers list of aid agen cies responding to the disaster, how to donate, and a list of contact numbers for emergency services in each country.
www.lankapage.com
A site for Sri Lankan expats that details the situation in Sri Lanka.
news.bbc.co.uk/1/hi/talking_point/4130565.stm
Many postings from people looking for loved ones.
www.disaster.go.th
Mostly in Thai, but has English link to a regularly updated list of hospital patients.
www.p-h-u-k-e-t.com/forum
Messages from Scandinavians looking for relatives dominate this site but it has a section devoted to Australians.
2bangkok.com/quakes.shtml
Regularly updated mix of local news reports and Thai Government information.
Indian Ocean Tsunami - Donation suggestions & info
Who to call and how to help
www.smh.com.au/news/Asia-Tsunami/Who-to-call-and-how-to-help/ 2004/12/29/1103996616211.html
December 30, 2004
Foreign Affairs help lines
The Department of Foreign Affairs has two toll-free help lines. The first is for people concerned about relatives or friends in tsunami-affected areas: 1800 002 214. The second is for Australians in disaster zones who need help from embassy staff: +61 1300 555 135 or 6261 3305.
Travel advisories
From the Department of Foreign Affairs and Trade (I've cut a lot - check yourself for advisories)
Thailand:
... A temporary consulate has been established at the Hilton Hotel, Phuket to assist Australians in the surrounding islands and can be contacted on +66 76 370 672 or aus-phuket@inet.co.th. Phuket Airport is operating and travellers are encouraged to leave by commercial flights. A Department of Immigration and Indigenous Affairs officer will be at Phuket Airport to provide travel documents to Australians who have lost their passports...
Maldives:
A British team has set up an emergency consulate at the Iskander school in Male. An Australian official will join these consuls for any Australians in the Maldives who require assistance...
More information and updated advice from the department at
www.smarttraveller.gov.au
Donations
PLAN: Vist
www.plan.org.au
or call 1800 038 100.
CARE Australia: 1800 020 046 or
www.careaustralia.org.au
Australian Red Cross: Call 1800 811 700, visit
www.redcross.org.au
or post a cheque to GPO Box 9949 in capital cities.
Oxfam: 1800 034 034 or
www.oxfam.org.au
Medecins Sans Frontieres
www.msf.org.au
UNICEF: 1300 884 233, 1300 732 240 or
www.unicef.org.au
World Vision: 13 32 40 or
www.worldvision.com.au
Baptist World Aid Australia: Call 1300 789 991, by mail to Baptist World Aid Australia, Locked Bag 122, Frenchs Forest NSW 2086, or
www.shareanopportunity.org
Caritas Australia: 1800 024 413 or
www.caritas.org.au
Some banks are also allowing donations to be made to various charities at their branches.
Tuesday, December 28, 2004
Assorted aspects of the Christmas Season
Thel
has pointed out "
another one of those creative Ebay auctions
"
Horizon Air Collectable Fine China, My Christmas Bonus
(eBay Item 3770539257)

Scared of Santa photo gallery
(43 examples)
Nothing says Happy Holidays like a photo of sweet little toddlers screaming at Santa. The first 25 photos in this gallery are from the Chicago Tribune's "Scared of Santa" contest in 2003. All the rest of the photos were submitted by SouthFlorida.com readers this year. Enjoy!
Fine Cell Work - UK Prison inmates doing work to earn money. Possible pressies?
finecellwork.co.uk/products/index.html
(Home Page)
finecellwork.co.uk/inmates/gloria.html
- one example
Tris McCall's analysis of Christmas songs, written from the perspective of an atheist who takes Christianity very seriously.
www.trismccall.net/pop_music_abstract_xmas.html
Saturday, December 25, 2004
Merry Christmas (has no connexion to these pictures)
Cutenessess:
www.flickr.com/photos/arizonasue/2011553
flitter6 12-01-04 & flitter7 12-01-04
both from the work of
www.flickr.com/photos/arizonasue
Well, some could call this cute:
www.deviantart.com/deviation/6851238
(boots)
or just appealing
www.flickr.com/photos/drswan/2502044
(ice posies, goosegoose)
Acute:
( including, for instance
www.deviantart.com/deviation/7118765
)
and others at
ftp.users.bigpond.net.au/wulfius/myart/politics.htm
, such as
UStralia
SPAMBLOGS
Just spotted in "latest published blogs" list.
Chester Hill's blog - chesterhill6778 blogspot.com
Jeremy Robert's blog - jeremyrobert3609 blogspot.com
Ivy Fox's blog - ivyfox4184 blogspot.com
Wednesday, December 22, 2004
The Desert Snowman and other stories
nielsenhayden.com/makinglight/archives/005917.html#70487

It's hard being traditionally Scandinavian when you're living in Sonoran desert. We had no rødgrød (no berries) and no straw goat (no straw). Some people made decorative snowmen for their front yards by sticking a broomstick in the ground, then impaling one large, one medium, and one small tumbleweed on it. They'd spraypaint the tumbleweeds white and add other details as seemed good to them.
www.samkass.com/theories/RPSSL.html
-- Adds two to Game of Three to make Law of Fives
Board Game to set the teeth on edge.
www.mapletreepublishing.com/mortality.htm

Mortality is an uplifting LDS board game about life rather than strictly a "church" game. It isn't made to teach a list of "facts" about the gospel. Instead, gospel principles are woven into the very fabric of the game. It doesn't give any advantage to the scriptorians or historians. Succeeding at the game requires cooperation, caring for other players, knowing how to build a solid foundation in one's youth, and an understanding of how faith and testimony help you endure trials, and any player who approaches the game in this manner can win
Another. This one agricultural:
www.growopgame.com/html/the_game.html
And some literary brainstorming, extracted from a mother lode of same:
nielsenhayden.com/makinglight/archives/005953.html

No question, the boys and I were in a tight spot. We'd been in plenty before, of course, sitting around watching our ride home fall to pieces down on the strand and taking a long crawl into a deep bottle just to see what was on the other end. That, along with the occasional dance with the crowd of toughs up the road--the kind of dance that paints the floor a shiny red and makes the crows fat and happy--had left us feeling confident we'd seen it all before. We hadn't, not by a long road. This time, this time the boys and I could tell it was different. Because Pretty Boy was in a rare taking, and this was no garden-variety snit, easy material for a quip and a chuckle at tomorrow's game. This was a killing rage, the kind with a dame at the heart of it. The kind that would see more than a few of the boys turning cards at Old Scratch's table before it burned itself out. The kind that makes the broad sing.
Trent Goulding
nielsenhayden.com/makinglight/archives/002175.html#13758
JRRwocky
Twas Bilbo of the hairy toes
Did send good Frodo on his way
With Gimli, Sam and Boromir
And the ring wraiths at bay.
Beware the shiny ring, my friend--
Its gleam's the bait, your soul to lure.
Resist its blandishments, or end
In furious Barad-Dur!
He took the eldritch ring in hand;
Long time the northern fires he sought.
Then wrested from his friends was he
And to the foe was brought.
But as his friends were saving him
The ring itself, with evil bane
Went weaseling past his conscience true
And ate into his brain.
I'll rule! cried he, and raised it high
But Gollum took it in the fire.
They watched him burn, then home did turn
And went to scour the Shire.
And is the One Ring gone at last?
The Fellowship has won its quest!
With misty eyes, they said goodbyes,
And Frodo headed West.
Twas Bilbo of the hairy toes
Did send good Frodo on his way
With Gimli, Sam and Boromir
And the ring wraiths at bay.
--Kip
Sunday, December 19, 2004
Castle Keep, on Stillwell Slopes
www.castlemagic.com/color.html
Between Marulan and Goulburn, on 25 acres of hillside above the stream, overlooking the valley farmland & facing the forested slopes opposite ...
OK, it might not have "alpine firs and wild mountain huckleberries", or "deer, elk, and moose roaming".
"The full moon shines through basalt pinnacles and lights up the bedroom at night." (Will have to check on the lunar visibility, also not sure what the local rock is. There are granite quarries in the area as well as some historic sites from convict days. )
www.marulan-nsw.com.au/tourism.htm
igoulburn.com/browse.asp?cid=655&sid=14&caid=0&cpid=0
igoulburn.com/browse.asp?cid=1735&sid=14&caid=0&cpid=0
igoulburn.com/browse.asp?cid=1731&sid=14&caid=0&cpid=0
igoulburn.com/browse.asp?cid=1734&sid=14&caid=0&cpid=0
Marulan is spot on the 150 degree east meridian of longitude. The district surrounding Marulan is home to some of the shire's most rugged scenery.
The spectacular Gibraltar Rocks at Brayton are only a 20 minute drive west of Marulan. The village of Tallong is 10 minutes off the highway, east of Marulan and is home to Badgery's and Longpoint Lookouts. Both have picnic facilities and give breathtaking views of Bungonia and Shoalhaven River.
Tallong is home to the little known convict built dungeons- ask at the general store for directions.
Bushranger John Dunn, of the Hall gang, shot policeman Sam Nelson at Collectors' Kimberley's Inn, operating today as the Bushranger Hotel.
Convict history abounds this corner of the Shire, with remains of the Towrang Stockade located just of the Hume Highway, 10 minutes north of Goulburn. Park at the Derrick VC Rest Area and take a short walk to discover a perfectly preserved convict built bridge, part of the original Great South Road which opened up the area. Across the highway the remains of the powder magazine and early graves can be discovered.
Note: Castle Magic is a USA site, naturally.
* "You may purchase small castle keeps for $200,000 to $500,000, medium sized castles for $500,000 to $1.5 million, and a large full sized castles from $1.5 million to $10 million.
* Custom Castle Building Prices: From $120 to $240 per square foot for a basic simple castle, or $300 to $600 per square foot for elaborate castles.
* 10' Outer defence or courtyard walls: around $250 per lineal foot.
* Cathedral or Great Halls: around $235 and up per square foot.
* All prices include: solid stone castle, handcrafted windows, handcrafted doors, real stone fireplaces, hidden electrical, hidden plumbing and plumbing fixtures, built-in appliances, custom hardwood and/or stone flooring, custom granite and hardwood cabinets, floor heat system, hidden central vac, drawbridge, portcullis.
* All prices exclude the cost of land, permits, utility connections or fees, fancy lighting fixtures, and roads."
"I usually spend twice as long building a castle when compared to building a common structure. For a small castle, say 4500 square feet, you should allow one to two years. For a large castle with inner and outer curtain walls, you should allow five years or increase the amount of labour and funds used. On the bright side, your castle will last for generations and increase in value over time."
Satan Claws
news.bbc.co.uk/2/hi/uk_news/england/ north_yorkshire/4074685.stm
Church anger over 'devil' Santa
news.scotsman.com/latest.cfm?id=3850270
Mon 6 Dec 2004
Church Outrage at Christmas with the Devil
www.yorkshiretoday.co.uk/ViewArticle2.aspx? SectionID=55&ArticleID=900568
Instead of the usual Father Christmas, visitors to Satan's Grotto at York Dungeon are greeted by a man dressed as the Devil with a red face and horns ... As well as meeting the alternative Santa, visitors to the grotto are handed "gifts" such as severed fingers, and can write on a scroll to sign their souls away.
On its website the dungeon says the festive attraction includes elves impaled on spikes and robins roasting over an open fire with Santa being put in a witch's cauldron and boiled.
Similar ghoulish grottos have also been set up at Edinburgh and London Dungeons ...
A spokesman ... said the alternative grotto had been running for many years. "There are many people who are tired and weary of the commercial aspect of Christmas and for those people our attraction comes as a light relief. It is all tongue-in-cheek and our visitors love it."
Wednesday, December 15, 2004
A variation on the Blond, Blue-eyed Jesus image of old
The nativity scene at Madame Tussaud's in London reportedly features an all-celebrity wax cast. [Or possibly an all-wax celebrity cast.]
www.thisislondon.co.uk/til/jsp/modules/GalleryPopup.jsp?itemId=15154511&imageId=3
www.thisislondon.co.uk/til/jsp/modules/GalleryPopup.jsp?itemId=15154511&imageId=0
David Beckham plays Joseph, with David's wife, Victoria, filling in as Mary. George Bush and his buddy Tony Blair are two of the three gift-bearing wise men. Samuel L. Jackson, Hugh Grant and comedian Graham Norton are the three shepherds with Kylie Minogue, as an angel, hovering above the crowd.
www.thisislondon.co.uk/news/articles/15165055?source=Evening%20Standard&ct=5
A spokesman for the Vatican said the display was "if not blasphemous then certainly in very poor taste" while one senior Church of England bishop's spokesman labelled it "an outrage" ... A spokesman for Madame Tussaud's said: "It is not our intention to offend anybody and we are sorry if we have indeed offended people. ... The display is supposed to be something funny for the festive period. We will be monitoring the reaction and will make a decision on whether it stays."
Mmmm ... a seductively-posed angel hovering above you that looks like Kylie in a thin, clinging white silk gown? Yup, can see the attraction there.
Having heard that someone is having a "Satan Claws" instead of a "Santa Claus", where children queue up & get a small, but perfectly gruesome, present from someone dressed as a demon, I reckon that for a
real
publicity stunt next year, they should set up a Crucifixion scene using figures from their Chamber of Horrors. Stopping short of suggesting they be used for the Nativity scene; some of the hardline fundamentalists would probably
firebomb
them after that.
Friday, December 10, 2004
Bringing Good News from Ghent to Aix, or Wellington to The World <g> (Follow-up to some issues mentioned, for instance, at
Electrolite: If this be error. August 13, 2004
, or
Electrolite: Constituency politics at work. February 19, 2004
)
New Zealand Herald story -
Civil Unions Bill passed
UPDATE - The Civil Unions Bill has been passed by Parliament. From April 26 next year couples can commit themselves to the new civil union.
Parliament voted 65-55 to pass the controversial legislation which has polarised opinion and split political parties ... The bill also applies to heterosexual couples, but it does not change the Marriage Act which still applies only to men and women ...
The minister in charge of the bill, David Benson-Pope, said the legislation took nothing away from marriage. "Once this bill is passed, and the sky doesn't fall in, the opposition to it will very quickly evaporate," he said.
"It gives the simplest of things -- the formal recognition and respect by our laws for the individual choices of New Zealanders."
- NZPA
New Zealand Passes Law Giving Marriage Rights to Gay Couples
Text of the Civil Union Bill
New Zealand government press release
Hon David Benson-Pope
09 December 2004

Passing of Civil Union Bill shows growing maturity of our nation
(BTW 'the official Website of the New Zealand Government' is called
www.beehive.govt.nz
)
Thursday, December 09, 2004
Magistrates & Mathematics
John Williams follows the trials and tribunals of Savoy Publishing's
Lord Horror,
the first novel to be banned in Britain for over twenty years
A shorter version of this feature appeared in GQ, May 1996
www.abel.net.uk/~savoy/HTML/gqart.html
Lord Horror

( www.abel.net.uk/~savoy/HTML/lhorror.html) is a kind of deliberately scatological, very William Burroughsian fable, the story of Hitler and his allies living on in an alternative Britain. Colin Wilson said that 'as an exercise in Surrealism it compares with some of the best work that came out of France and Germany between the wars', and the British sci-fi writer Michael Moorcock was a key witness at Savoy's appeal against the ban.
"I liked Lord Horror a lot," he confirmed, when I called him up at his current home outside Austin, Texas. "I've already been to the court to defend it. I think it's telling the truth in its own horrible way, and that's what I like about it. Compared with other satire it has a more powerful and directed anger. It takes everything beyond the limits."
Taking everything beyond the limits, however, clearly doesn't appeal to the Manchester Police force. For though the appeal succeeded in having the ban lifted on the novel itself, Savoy are currently back in court to defend a series of Lord Horror comics www.abel.net.uk/~savoy/HTML/horrpage.html — spin-offs from the book — which have once again been seized by the police and charged with obscenity
...
John Coulthart. He's the artist responsible for the key item on trial here today, an adult comic called

Lord Horror: Hard Core Horror No 5

www.abel.net.uk/~savoy/HTML/hch5.html.
The culmination of a series depicting, like the novel, a parallel universe version of World War II, Hard Core Horror No 5 attempts to take on nothing less than the Holocaust. To this end Coulthart has produced a series of dark, vaguely H R Giger-esque tableaux of Auschwitz, rendered as a decayed death factory. The pictures have spaces for options, but they have been left blank. Words, the artist seems to say, are not enough. Nor, in the end, is art: the last pages of the comic are simply photographs of some of the camp's dead victims. The effect is certainly upsetting. But obscene? Only to the extent that the Holocaust was obscene. Which is why Savoy has been able to attract top civil liberties lawyers to its case.
<big snip>
By the end of 1980, the Manchester Vice Squad had made over forty raids on the Savoy shops, carting off stacks of soft-core magazines, horror magazines, comics and novels, including The Tides of Lust and The Gas. But far from making the Savoy team contrite, the raids simply enraged them, and they responded to the perceived harassment by publishing Jack Trevor Story's Screwrape Lettuce, a gleefully pornographic and scabrously anti-police fantasy.

Finally, in May 1982, the case came to trial. Their barrister stepped down the day before the trial, leaving the case in the hands of a substitute who knew nothing about it. The books were indeed found obscene, and David Britton was sentenced to twenty eight days in prison. And not just any prison: Britton found himself lobbed into Strangeways just as a long hot summer of prison rioting was chiming up ....

The experience of sitting in a cell while his neighbours were busy setting their own cells on fire was one that, not surprisingly, affected Britton deeply. But rather than resolving to be a good boy and never bother Anderton's vice squad again, he began work on the multimedia extravaganza that has kept Savoy knee-deep in legal battles since — Lord Horror.
"After Dave's prison experience," says Butterworth, "his dark view of humanity got even worse... I had been facinated [sic] by the Third Reich — trying to get at the core of how it happened. I'd started a novel about Hitler in an alternative universe — but then Dave came up with the more original idea of using Lord Haw-Haw ... as the central character, renaming him Lord Horror — which seemed to me to be much better."
...
And so life and art were entangled — PJ Proby was a crazed, violent, racist drunk, touched by greatness. Who better to play Lord Horror, a crazed, violent, rascist embodiment of our worst nightmares, yet touched with awful charisma. So Proby recorded as Lord Horror and the spirit of Horror would in turn inform Proby's own recordings.

Almost everybody in the industry hated these records, the indies wouldn't touch them with a bargepole. Not that Savoy helped their own cause much by pulling such witlessly provocative stunts as crediting the backing band as the Savoy Hitler Youth Band. The Savoy team however take a perverse pride in reproducing such negative testimonials as this billet doux from then rock critic Richard Williams: 'I don't know who you are or what you want, but please don't send me any more of this trash'.

Still, the music world is used to being shocked, almost expects it, so it wasn't until Britton and Butterworth made a return to publishing that they really managed to provoke a rise. The summer of 1989 saw a Lord Horror offensive, with both the publication of the much-delayed novel and the launch of the Lord Horror comics: the ultra-noir Hard Core Horror series and the deliberately offensive, satirical spin-off Meng & Ecker.

Controversy was immediate. "One week after the novel was published the police were desperate to get hold of it. There's the character called James Appleton, who's obviously meant to be a caricature of Anderton," says Butterworth. "We took Anderton's speech about gays swirling about in a cesspool of their own making and reprinted it using 'Jews' instead of 'gays'. And he didn't like that at all ...

... [They] managed to get civil liberties group Article 19 interested in Savoy's
plight, and an appeal against the banning of

Lord Horror

was launched. Geoffrey Robertson QC, who had defended Oz in the early Seventies, agreed to take the case, and on July 30, 1992, the case was heard and the novel was cleared.
Meng & Ecker, however, was still held to be obscene, "because it was luridly bound and therefore [more] likely [than the novel] to attract attention from the less literate," said the judge. Butterworth noted patronising echoes of the Lady Chatterley prosecutor's celebrated question to the jury: "Would you let your wives or servants read this?"
This article brings it up to date to 1996. Not certain what's happened since then.
It was referred to as an example of what was possible in the UK, as opposed to the USA, and now what it looks like US Customs is working on --
www.cbldf.org/pr/archives/000237.shtml
ICK! And speaking of horrific ideas:
simbaud.blogspot.com/2004/12/his-first-straight-horror-movie-since.html
www.antipope.org/charlie/blosxom.cgi/2004/Nov/27#wartime-46
Cost of war
Sat, 27 Nov 2004
And a different type of maths
www.mathpuzzle.com/
The Poppy Seed Bagel theorem
www.vanderbilt.edu/news/releases?id=15880
was recently in the news at Vanderbilt.
Google has launched Google Scholar
scholar.google.com
. I'll have to see how well it compares to
CiteSeer
and
arXiv.org
.
Also:
The Google Blog
[
www.google.com/googleblog
]
Wednesday, December 08, 2004
Seen recently at Berchtesgaden
Ever read Terry Pratchett's
Hogfather
? Excellent for Christmas, or midwinter. I think these are the critters that all the noise & light are there to shoo away in those long dark days.
www.smh.com.au/ftimages/2004/12/07/1102182298316.html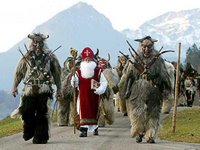 Google Image searches for "
Krampusse
" (~1,700 results) and "
Buttenmandl
" (considerably less) bring up some good gruesome pictures. Threre's even a
www.krampusse.com
There's been a fuss recently about whether the Sydney City Christmas decorations are up to scratch. I've been wondering if I should point out to all the people saying that in London, Paris, New York & so forth they have all these lights, that at Christmas time those cities are only getting maybe 4 hours of daylight. And not always very bright sunlight at that. Cold, slushy, grey & grim.
'Silly' used to mean 'Holy', so this is very well called the Silly Season
www.news.com.au/common/story_page/ 0,4057,11626271%255E26462,00.html
festive fiasco engulfs city
December 8, 2004
SYDNEY'S Christmas crisis turned to farce yesterday as it emerged the stars in our busiest shopping mall didn't work, ... and the Sydney City Council was forced to defend claims it was hiding decorations in a locked storeroom ... in its Bay St, Ultimo depot. [Perhaps the ABC could do an investigative raid to Bay St from Ultimo HQ?]
City shoppers were shocked by a shoe store with 23 blow-up sex dolls in a prominent window display [in Hype Shoe store* ] beside the Myer department store at the corner of the Pitt St Mall and Market St.
Meanwhile, Sydney City Council was under pressure for not getting the stars to work in the Pitt St Mall. Only four out of the 21 stars ... are illuminated.
For the past three years, a business known as the Christmas Company won the contract to install the glittering multi-coloured stars, which have to be placed in a certain order to ensure they are all properly illuminated.
However, it did not win the contract for the next three years. The stars do not appear to have been properly installed, which means only four of them are up in lights.
[*Who are extremely happy with the publicity]
From Wired 12.10: The Crusade Against Evolution
The Crusade Against Evolution
In Wired Issue 12.10 - October 2004:
By Evan Ratliff
www.wired.com/wired/archive/12.10/evolution.html
In the beginning there was Darwin. And then there was intelligent design. How the next generation of "creation science" is invading America's classrooms.
Sunday, December 05, 2004
Some Typeface Links + Paranoia?
Links to some specialist typefaces/fonts. From a place where you can get a special Old English font/typeface
www.engl.virginia.edu/OE/junicode/others.html
scholarsfonts.net/index.html
bibliofile.duhs.duke.edu/gww/fonts/fonts.html
This person has also written a set of programs:
bibliofile.duhs.duke.edu/gww/FreeWare/MyToys.html
to interconvert between Macintosh NFNT resources and Adobe's BDF (Bitmap Distribution Format), which might be useful to people interested in such things.
And, for something completely different, these:
Paranoia, or possibly useful?
- You decide:
nielsenhayden.com/makinglight/archives/005763.html
www.equipped.org/
Nutrigrain, E.T (the Extraterrestrial) & Vanishing Millennial Dollars
Quick Query: Has anyone here heard the recently-circulating news story of a person who is supposed to have found a nutri-grain (or nutrigrain) piece that looked like E.T. (the Extra-Terrestrial) & sold it on eBay for $1000? It came as a follow-up to the toasted-cheese sandwich with image of The Virgin story.
Well, (tangentially related to the fake legal cases mentioned in the
'Common fraud' thread
, or even the "
Human Guinea
Pigs
"
story
) I have not found any evidence of anyone paying, or even bidding, $1,000 for any ET-related cereal product.
There's a bunch that people have put up for sale since the story broke, and some have a "Buy-me-Now" price of $1000, but most haven't sold at all, one or two have for e.g.
$2
. Some people have put up
alternative
collectibles
Wednesday, December 01, 2004
Operating in the Post-Truth Environment
(Truth Lite; Faux Truth, and Beyond )
hightower.fmp.com/weblogitem.php?id=1587
Jim Hightower's Weblog
Tuesday, October 26, 2004
Posted 10:22 AM by Jim Hightower
When Presidents Lie
By ERIC ALTERMAN: The Nation, October 25, 2004
... Under President George W. Bush, Americans entered an era of politics in which the value of truth, for all practical purposes, became entirely contingent. Whether its citizens were aware of it or not, the presidency now operated in a "post-truth" political environment...
---
This is my blogchalk:
Australia, New South Wales, Sydney, English, photography, reading, natural history, land use, town planning, sustainability.